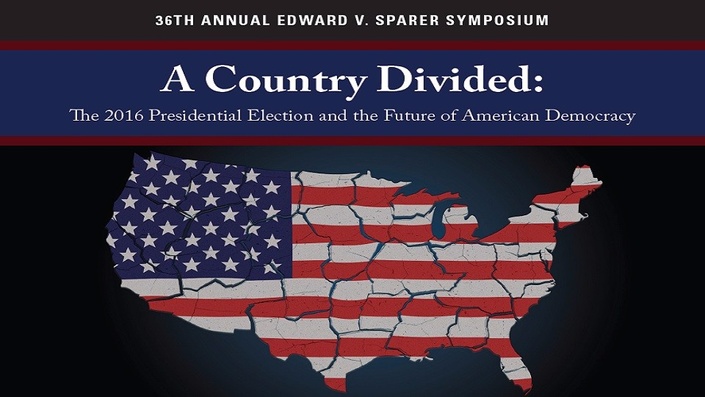 Law and Disorder: What Does Criminal Justice Reform Look Like Now?
1.5 ethics credits in PA, NY, NJ, IL, FL, CT
On Election Day, voters faced a choice between two visions of the criminal justice system and two methods of repairing it. Donald Trump spoke of a system that was on the brink of pandemonium and called for 'law and order' as the solution. Hillary Clinton's criticism towards the system was directed at its harshness, and she supported reform in areas such as mandatory minimum sentencing, the school-to-prison pipeline, and privatized prisons. Because President-Elect Trump has not provided details about his specific plans for the criminal justice system, it is difficult to predict whether he will be as unabashedly 'tough on crime' as his statements suggest. This panel will explore what the next four years will look like with respect to the system's problems -- including strained relations between police and communities, mass incarceration, and barriers to re-entry -- and how racism and poverty will affect these issues under Trump's administration. What can President-Elect Trump do (or undo) in four years and how will his actions change the landscape of an already heavily fractured criminal justice system?
Panelists:
Angela J. Davis
Professor of Law, American University
Angela J. Davis, professor of law at AU's Washington College of Law, is an expert in criminal law and procedure with a specific focus on prosecutorial power and racism in the criminal justice system. Davis previously served as director of the D.C. Public Defender Service, where she began as a staff attorney representing indigent juveniles and adults. She also served as executive director of the National Rainbow Coalition and is a former law clerk of the Honorable Theodore R. Newman, the former Chief Judge of the D.C. Court of Appeals.
Davis is the author of, Arbitrary Justice: The Power of the American Prosecutor. She is also the co-editor of Criminal Law, Trial Stories, and the 6th edition of Basic Criminal Procedure. Davis' other scholarly publications include articles in the Michigan, Iowa, Fordham, and Hofstra Law Reviews. Davis won the Pauline Ruyle Moore Award for "Arbitrary Justice: The Power of the American Prosecutor" in 2009 and for her Fordham Law Review article, "Prosecution and Race: The Power and Privilege of Discretion" in 2000. Davis was awarded a Soros Senior Justice Fellowship in 2003 along with numerous Faculty, Teaching, and Scholarship awards from American University throughout her tenure.Davis is a member of the Board of Trustees of the Frederick Douglas Jordan Scholarship Board, the Southern Center for Human Rights, and the Sentencing Project. Previously, she was a reporter for the ABA Justice Kennedy Commission and a member of the ABA Commission for Effective Criminal Sanctions. Davis also served as a member of the Advisory Board for the Vera Institute of Justice Prosecution and Racial Justice Program. She teaches Criminal Law, Criminal Procedure, and Criminal Defense: Theory and Practice.
John F. Hollway
Associate Dean and Executive Director, Quattrone Center for the Fair Administration of Justice, University of Pennsylvania Law School
John F. Hollway is Associate Dean and Executive Director of the Quattrone Center for the Fair Administration of Justice at the University of Pennsylvania Law School.
Hollway is the author of Killing Time: An 18-Year Odyssey from Death Row to Freedom, which covered the case of John Thompson, a Louisiana Death Row inmate who was exonerated and freed after 18 years in prison. Thompson was the plaintiff in the pivotal Supreme Court decision, Connick v. Thompson. Killing Time won the National Independent Book Award for non-fiction in 2011 and was one of the Chicago Sun-Times' Best Books of the Year in 2010.
In 2012, he founded Hollway Advisory Services, a consulting firm, which specializes in criminal justice reform research projects, including the California Wrongful Convictions Project. The Project works to identify and measure the costs of all wrongful convictions in California state and federal courts.
Hollway graduated from the University of Pennsylvania in 1992 with a BA in Diplomatic History and a minor in East Asian Studies. He received his JD with honors from the George Washington University Law School.
Alec Karakatsanis
Founder and Executive Director, Civil Rights Corps
Alec Karakatsanis graduated from Yale College in 2005 with a degree in Ethics, Politics, & Economics and from Harvard Law School in 2008, where he was a Supreme Court Chair of the Harvard Law Review. Before founding Civil Rights Corps, Karakatsanis co-founded Equal Justice Under Law, a non-profit organization dedicated to systemic litigation challenging injustices in the American criminal legal system. Karakatsanis was also a civil rights lawyer and public defender with the Special Litigation Division of the Public Defender Service for the District of Columbia as well as a federal public defender in Alabama, representing impoverished people accused of federal crimes.
Karakatsanis' primary interests include ending human caging, surveillance, the death penalty, immigration laws, war, and inequality. He is the author of The Human Lawyer, Protecting Corporations Instead of the Poor and Civil Disobedience: The Role of Judges. His most recent article in 2015, Policing, Mass Imprisonment, and the Failure of American Lawyers, was featured in the Harvard Law Review Forum.
Karakatsanis was recently awarded 2016 Trial Lawyer of the Year by Public Justice for his role in bringing constitutional civil rights cases to challenge the American money bail system and the 2016 Stephen B. Bright Award for contributions to indigent defense in the South by Gideon's Promise.
John G. Malcolm
Director, Edwin Meese III Center for Legal and Judicial Studies and the Ed Gilbertson and Sherry Lindberg Gilbertson Senior Legal Fellow
John G. Malcolm oversees The Heritage Foundation's work to increase understanding of the Constitution and the rule of law as director of the think tank's Edwin Meese III Center for Legal and Judicial Studies. The Meese Center works to educate government officials, the media and the public about the Constitution and legal principles -- and how they affect public policy. As Heritage's Ed Gilbertson and Sherry Lindberg Gilbertson Senior Legal Fellow, Malcolm adds a wealth of legal expertise and experience in both the public and private sectors.
In addition to his duties at Heritage, Malcom is chairman of the Criminal Law Practice Group of the Federalist Society and chairman-elect of the board of directors for Boys Town Washington, D.C., which provides homes and services to troubled children and families who are edging toward crisis. Before being named director of the Meese Center in July 2013, Malcolm spearheaded the center's rule of law programs.
Prior to joining Heritage in 2012, Malcolm was general counsel at the U.S. Commission on International Religious Freedom as well as a distinguished practitioner in residence at Pepperdine Law School. From 2004 to 2009, Malcolm was executive vice president and director of worldwide anti-piracy operations for the Motion Picture Association of America. He also served as a deputy assistant attorney general in the Department of Justice's Criminal Division from 2001 to 2004. From 1990 to 1997, Malcolm was an assistant U.S. attorney in Atlanta, assigned to the fraud and public corruption section, as well as an associate independent counsel, investigating fraud and abuse in the Department of Housing and Urban Development. Malcolm is a graduate of Harvard Law School and holds a bachelor's degree in economics from Columbia College.
Jo-Ann Wallace
President and CEO, National Legal Aid & Defender Association (NLADA)
Jo-Ann Wallace is the president and CEO of the National Legal Aid & Defender Association (NLADA). She was previously NLADA's Senior Vice President for Programs, responsible for oversight of both the Civil Legal Aid and Indigent Defense Program agendas. From 1994 to 2000, Wallace served as director of the Public Defender Service for the District of Columbia (PDS), widely regarded as the nation's model defender agency. Before her appointment to Director, Wallace served the agency in a number of capacities: deputy chief of the Appellate Division; coordinator of the Juvenile Services Program; and as a staff attorney representing both juvenile and adults in trial and appellate litigation.
Wallace chaired the National Blue Ribbon Advisory Panel on Defender Services, a joint project with the United States Department of Justice (USDJ) from 1995 to 1996. She is a founder of the American Council of Chief Defenders (ACCD), a leadership council of the top defender executives from across the United States, and the District of Columbia Appellate Practice Institute. Her extensive experience lecturing includes serving as a member of the visiting faculty for the Trial Advocacy Workshop at Harvard Law School. Ms. Wallace has served as a member of the American Bar Association Criminal Justice Standards Committee. She has significant experience as an expert on criminal justice and indigent defense issues, including serving as a consultant to the United States Department of Justice, local government entities and indigent defense programs. Wallace recently received recognition from the White House as a "Champion of Change." She is a graduate of New York University School of Law.
Your Instructor
Course Curriculum
First Section
Available in days
days after you enroll
Frequently Asked Questions
When does the course start and finish?
The course starts now and never ends! It is a completely self-paced online course - you decide when you start and when you finish.
How long do I have access to the course?
How does lifetime access sound? After enrolling, you have unlimited access to this course for as long as you like - across any and all devices you own.
What if I am unhappy with the course?
We would never want you to be unhappy! If you are unsatisfied with your purchase, contact us in the first 30 days and we will give you a full refund.